On the way back from the cycling heaven that is Mallorca, and wanted to share out my explorations on the island – including some camp highlights. Also these notes are a good reminder for when I return in 2023 (oh yes, we will be back!).

First up, the stats – 536 miles ridden and 29,950 ft climbed in 7 days. 💀 That's an average of 76.5 miles and 4,200 feet every day. This involved a lot of independent riding – pre-camp, post-daily rides, and even on the rest day. Thankfully Mallorca makes riding easy to do!
While the climbs are my own, I relied heavily on my fellow campers on the flats. This included our incredible guides who keep us on the right path, well-fed and highly caffeinated (the last one is optional). And of course, good fortune that saved our campers from lost luggage, broken chains, and potential downhill disasters.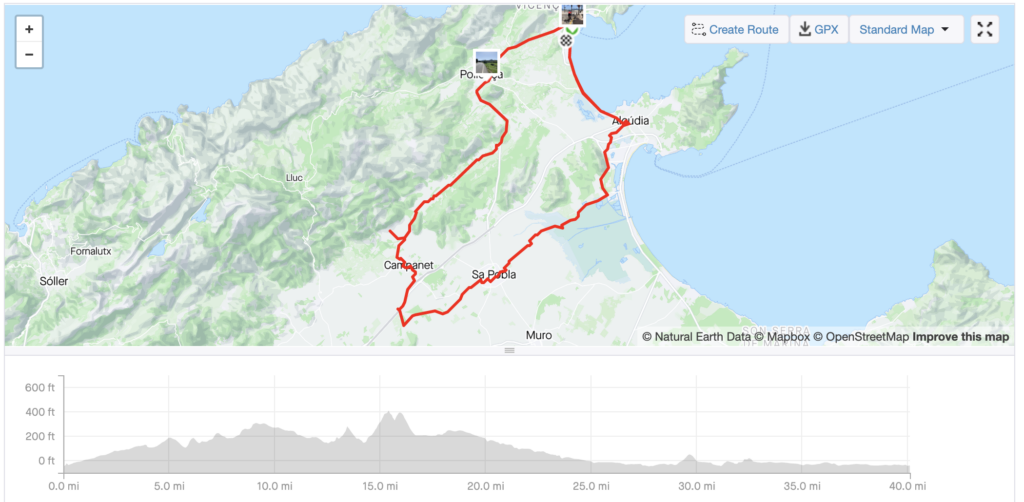 I landed midday and raced over to the hotel as quickly as possible. The first order of business was to unpack and get myself over to the Pinarello store. Super fast bike in hand, it was time to plan the route. We lost a little time getting my bicycle fit sorted out, but then it was off to the open road. There's nothing like getting off a plane and being on a bicycle in less than 2 hours in Paradise! We planned to ride about 50 miles, but ended up focusing on the fun instead.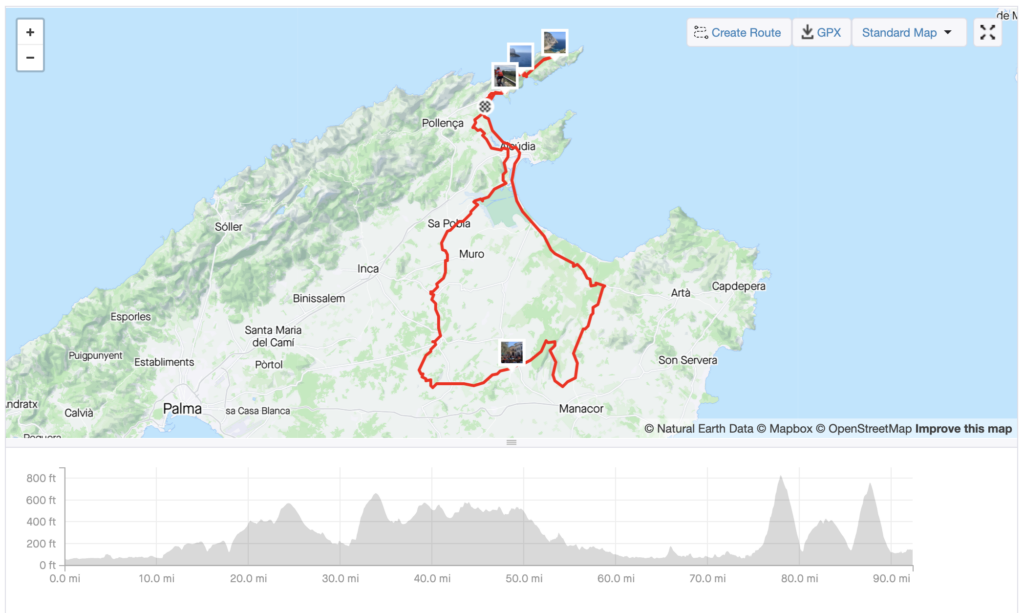 The first official day of camp is all about getting organized. There is a lot of friction between people who travel with bikes, people who rent with bikes, and people who have never ridden together before. to make things easier, our guides sort the group by ability and for safety purposes — smaller groups are safer on the road. the first day is a small test of all the things we will face this week. Traffic circles, other groups, rolling Terrain, and variable winds. it is the perfect opportunity for campers to practice riding in a group and learning how our guides will run the daily experience. A group lunch in Petra well-timed in terms of calories and bringing all of the groups back together again.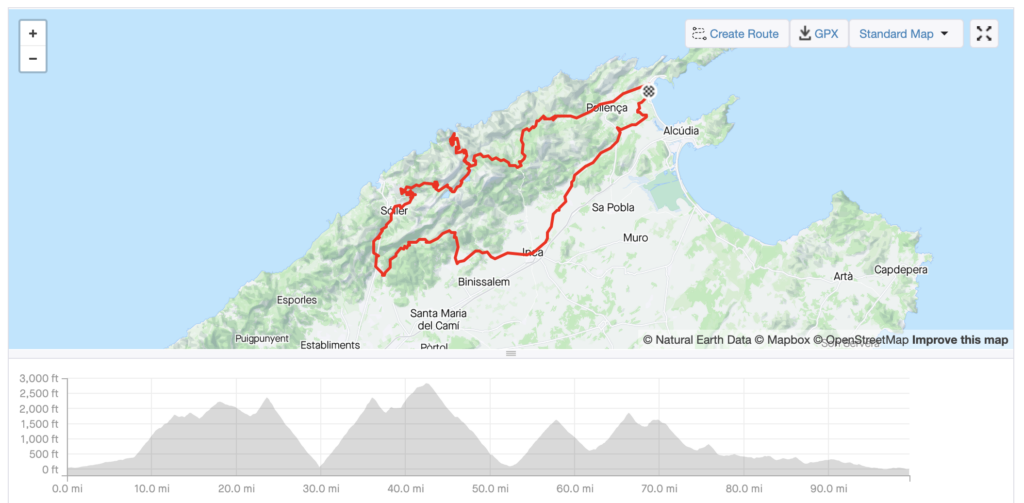 With the first day of firmly in our rearview mirror, it was time to explore. With the weather looking honest in the coming days, we made the decision to head over to one of the most epic climbs on the planet. it is worth noting that even getting there requires climbing the Col du Feminia. Which is no small task. We refueled at a cafe station at the top before making the descent down the winding roads to the bottom. Even going down this climb is an adventure — there are more hairpin turns than you think is possible. It's no surprise to learn this road was originally built by hand. I'm not sure how they would even get machinery there in the first place!
The Climb from the bottom to the top can take anywhere from 30 minutes to an hour depending on your goals and ability. This is a perfect early Camp test and a chance to stack yourself against tens of thousands of riders. It wasn't my day, but I certainly enjoyed the chance to tackle these climbs in earnest.
At the top the group continued on to lunch and home. Matt and I made a right turn for adventure. There is a running joke on the island between me and a fellow Zwifter from England. He gave me coordinates for a gift that he had hidden at the top of a nearby climb, the Puig. With Matt in tow, or rather, with Matt towing me, we were off to find the prize. Coke collected, we continued to on the other side. We made an epic loop that took in 4 climbs adding a total of 10,200 ft of climbing in just under six and a half hours of ride time. We made sure not to crack 100 miles just to drive everyone on the team crazy!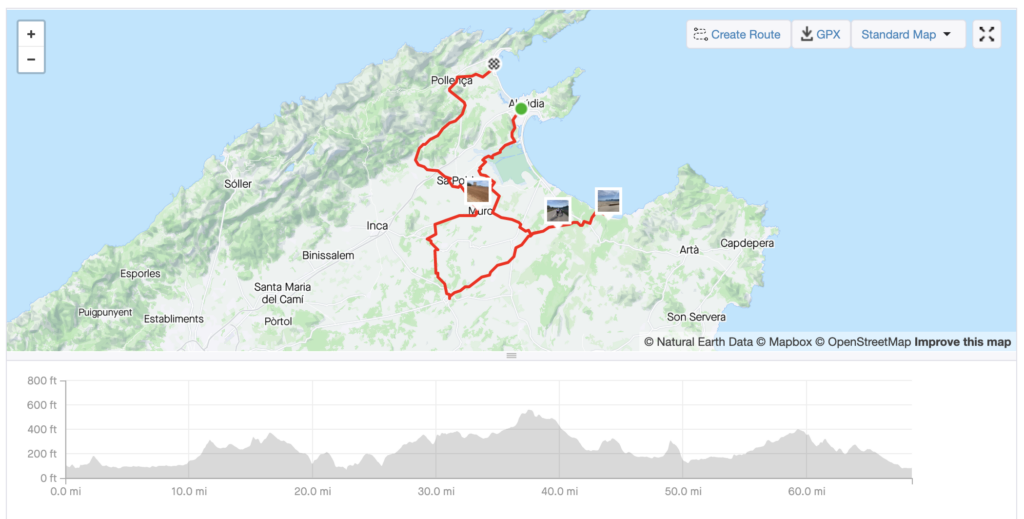 Regardless of the route people took on Monday, we were all tired by Tuesday. Given the chance of rain, this is the perfect day to spin over to the beach for photos and cake. Once again we gathered as a group for lunch to hang out and relax. After lunch, the group split up on the way back with my group opting for some extra miles out towards Sineu. It is here that I ate the largest pastry of my life and managed to avoid the rain just like the other group.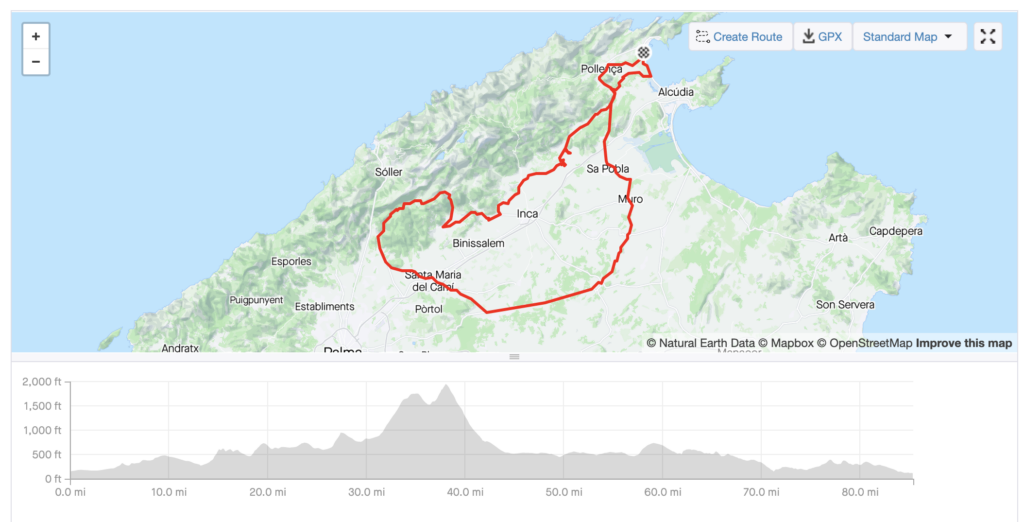 Another day of potential rain lay ahead, but it didn't stop either group from making adventurous plans. My group decided to head over to the climb in the Sleepy town of Orient. hey picturesque Village nestled at the base of a Time where the road is covered in moss and is apparently deadly with any form of moisture on it! Good fortune kept the faith with several Mechanicals that forced us to slow down and keep Safety First. This resulted and I much longer day than planned, and we missed our fellow Riders after world's greatest cake place in Santa Maria. thankfully they had given us some leftovers which we devoured. as you'll see in the map, we decided to take a more direct path home due to time constraints.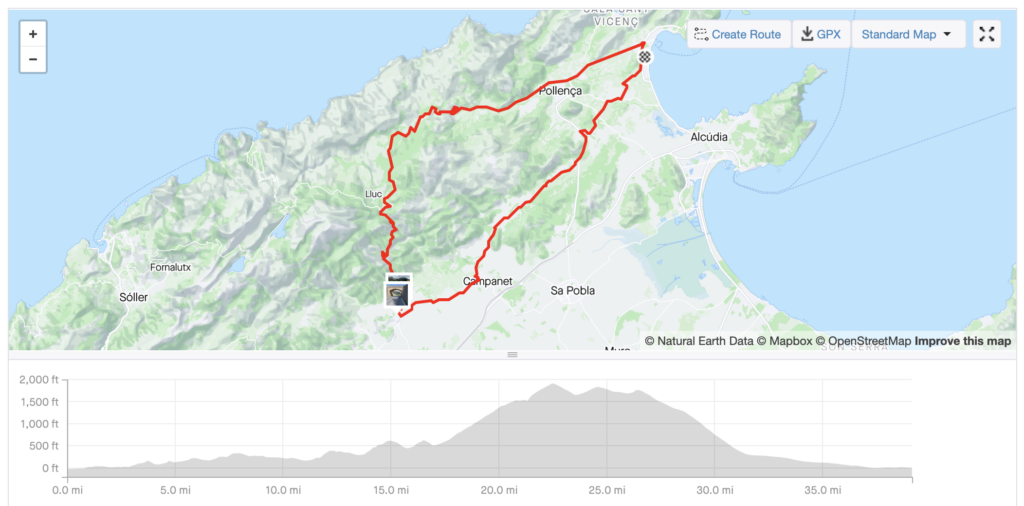 After four straight days of 5 to 6 hours a day on the bike, it was time for rest. It was also time for some serious rain, which is always the right car on the island. The Limestone roads are not safe when they get wet despite what you see other Riders doing well you are staying dry.
Of course, I was there to ride and convinced Matt to go out for a quick 40-mile loop. Truth be told, we were rolling the dice from the start with the rain coming in over the mountains. We split the difference, cruising the flats to warm up and then hitting the Sa Batalla climb for a coffee break before heading home. We had to take shelter from the rain at the top, and this was where I realized I didn't have gear for wet weather (it was all in my hotel room!). I did however have a plastic bag, also known as a packet in Europe, that I put under the front of my jersey. While it certainly didn't make up for the vest and arm warmers that everyone else was wearing, it was a lifesaver. descending in the rain flights pretty terrifying and I think my shoulders are still tight from how hard I was gripping the bars.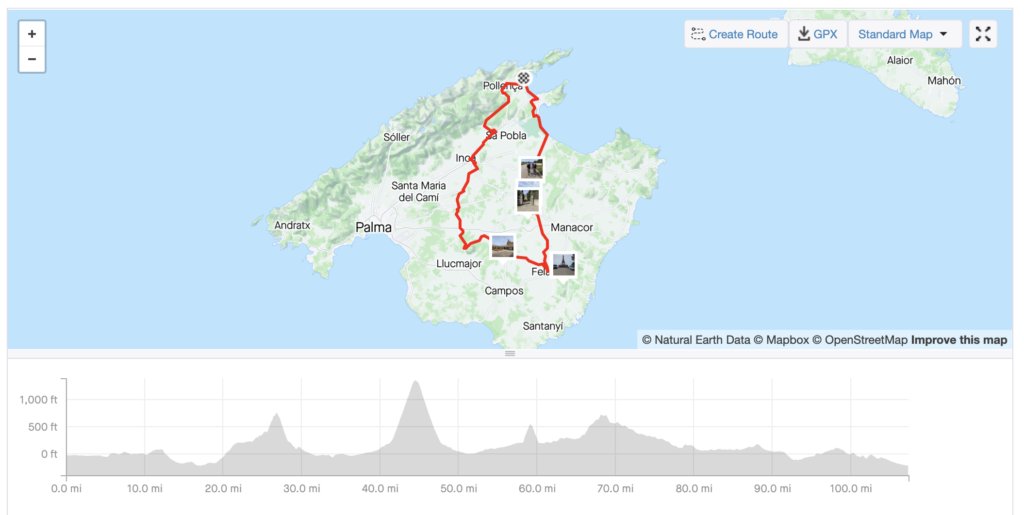 Our final ride day of the camp saw both groups opting for a more epic day. We set off early and plans to rent accordingly so that everyone can get maximum distance on the bike. One group was able to hit the local velodrome for some fun laps in addition to logging 85 miles. My group went a little wider around the island to find a few new monasteries to climb. Both groups found some solid headwinds for the first half of the day oh, the remnants of the storm from the day before. While we all suffered mightily to start, the winds hung around long enough to help push us all home.
It's never easy to say goodbye to cycling paradise, but after a day like Friday I was happy to say goodbye to my two-wheeled dream machine.
Planning for 2023
We will be back in April 2023 for another year of adventure. You can learn more and make your deposit online here. You won't regret it!